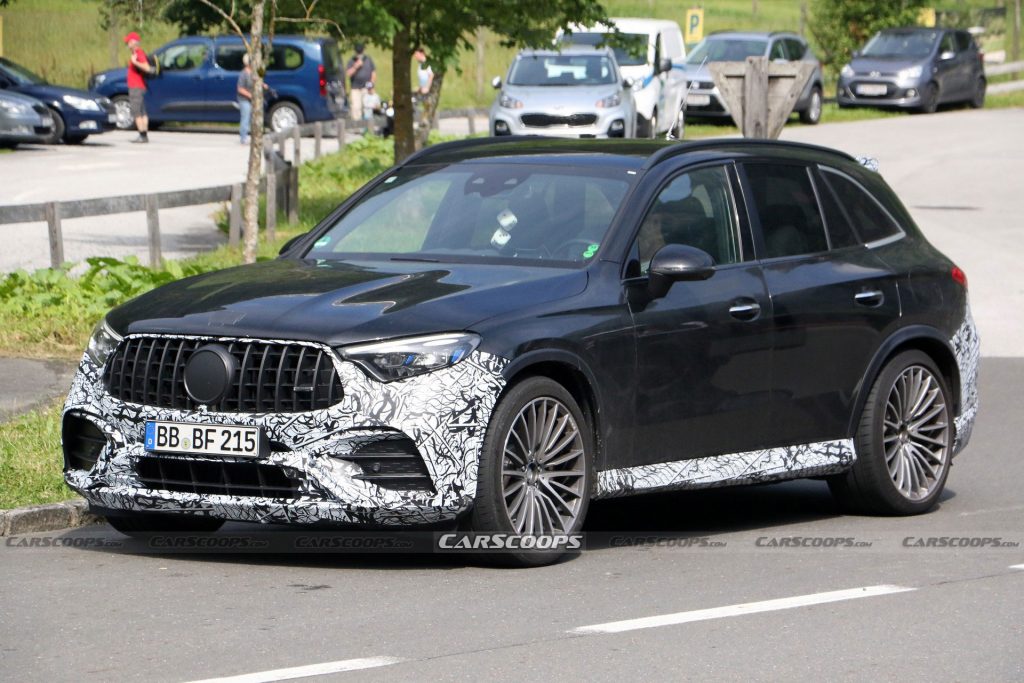 Even before the official unveiling of the new Mercedes-Benz GLC SUV, we have been seeing spy shots of its camouflaged AMG version. Recently, the test vehicle for the new Mercedes-AMG GLC SUV was spotted again, but this time, its camo is almost stripped off.
Most of the spy photos shown to us as of late featured the AMG GLC43 model. These ones from Carscoops, however, are shots of the range-topping AMG GLC63.
The test vehicle displays AMG's signature Panamericana grille, side skirts, LED headlights, and lightweight wheels complemented by a chunky braking system with red calipers. Meanwhile, going around reveals quadruple square-tipped exhaust ports usually reserved for the AMG models with the "63" suffix.
If the powertrains of the newly-unveiled Mercedes-AMG C43 and upcoming Mercedes-AMG C63 are to be followed, we expect the AMG GLC63 to have a plug-in hybrid powertrain. With that, it will most likely get a 2.0-liter turbocharged four-cylinder engine producing 470 hp partnered with a rear-mounted electric motor delivering 201 hp. The hybrid setup is calculated to have a combined output of 671 hp and 553 lb-ft of torque.
The projected numbers would mean 168 hp and 37 lb-ft of torque higher than the output of the outgoing AMG GLC63 S. As an added note, the predecessor of the upcoming AMG GLC63 is already capable of going from 0 to 60 mph in just 3.6 seconds with an electronically-capped max speed of 174 mph. So, just imagine what the new Mercedes-AMG GLC63 could do with all the extra power later on.