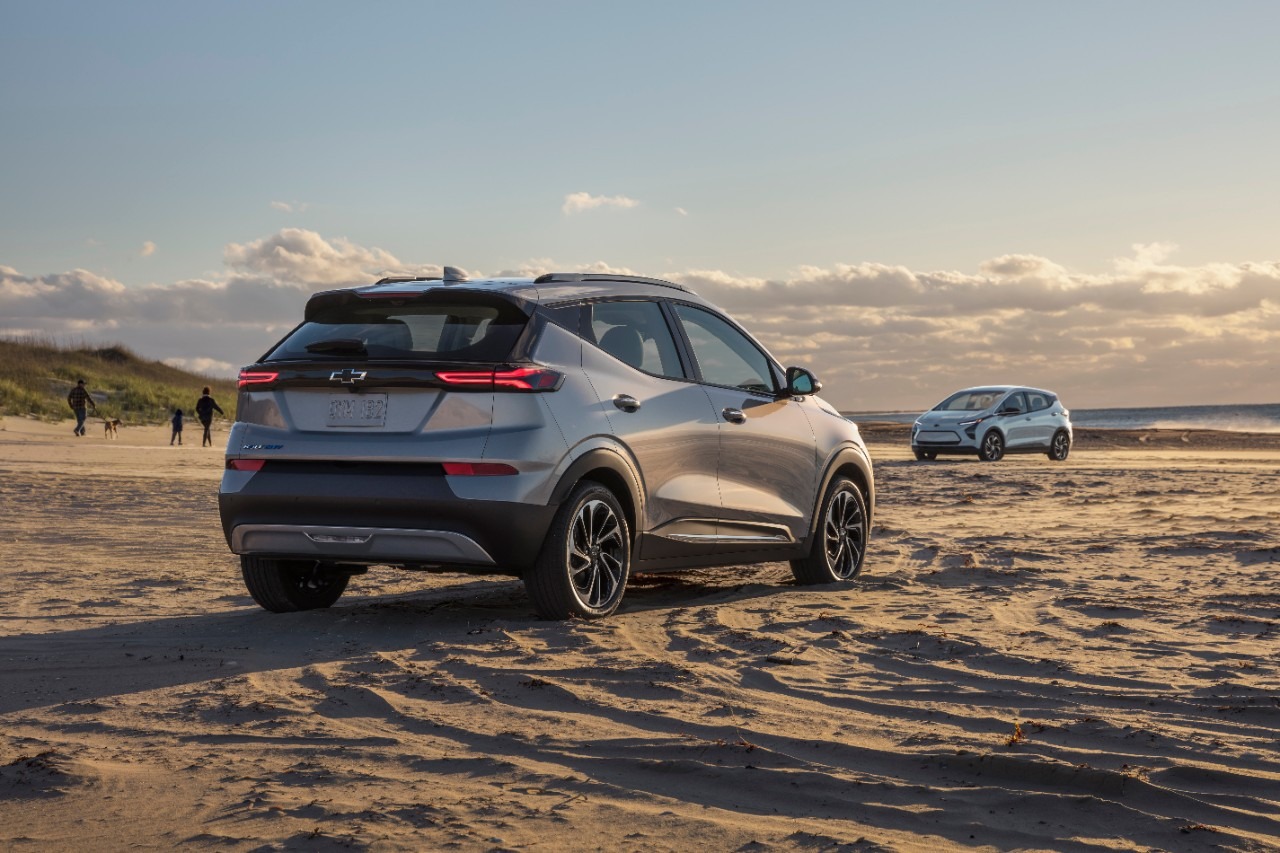 The nameplate "Chevy Bolt" spells out satisfaction, efficiency, speed, power, and environmental friendliness. But when faced with two Bolts, each rallying to conquer your heart, settling down on one option is not easy. 
This article has handpicked the 2022 Chevrolet Bolt EV and 2022 Chevrolet Bolt EUV to compare their features and help you narrow down to the best option if not all. 
Chevy Bolt EV Benefits
Four years after winning Motor Trend's Car of the Year Position in 2017, the 2022 Chevrolet Bolt has bolted out with dramatic updates and revolutionary changes to wage war against Hyundai Kona, Nissan Leaf, and Tesla Model 3. These new changes envelope technological prowess, speed, comfortability, and endurance.
To start with, the 2022 Chevy is updated with a new 65 kWh battery to squeeze out 259 plus miles on a single charge. This respectable figure beats Kona and Leaf, whose ranges are below 258 miles.
Chevy equipped the car with a cool Dual Level Charging cord that can work with standard 120V level 1 and level 2 240V chargers. Many experts think this move will eliminate charging barriers and allow car owners to charge flexibly.  
As for high-tech features, the 2022 Bolt EV has an 8-inch digital instrument cluster screen and a massive 10.2-inch infotainment touchscreen. You will also find automatic front wheel emergency braking, lane-keeping assistant, adaptive cruise controls, a 360-degree camera view, and advanced rear cross-traffic alert.
In summary, driving the 2022 Chevrolet EV is a relaxing experience, and at your disposal will be:
Chevy Safety Assist package

Enough space to take in 5 passengers

Beefed up security system thanks to strategically placed cameras

Personalized coats

Faster acceleration time of 6.5 seconds from 0 to 60 mph

The powerful electric motor that wheels out 200 horsepower 
Chevy Bolt EUV Benefits
The 2022 Chevrolet Bolt EUV is a surprise-filled subcompact SUV. This SUV flexes your tough side with a classic front fascia with tough styles and robust skid plates. The hood is longer and masculine yet maintains a bold and edgier look.
While the exterior is aesthetically tuned to perfection, its design is based on efficiency. The car has a two-level charging system; level 1 120-volt and level 2 240-volts. The chargers connect to a single replaceable heavy-duty code with a changeable plug. 
So, when traveling, you can easily shift from one charger to another with ease.
Have you ever thought of owning a level 2 charger at home? In collaboration with Qmerit, Chevrolet allows you to own a standard level two power outlet by covering installation costs for qualifying 2022 Chevrolet Bolt EUV customers.
A car must look good and work comfortably. This policy is favoring Bolt EUV customers in many ways:
The car has a 288-cell lithium-ion battery with a capacity of 65 kWh

When fully charged, the battery has enough power for a 247-mile-long journey. 

A single 200-hp motor distributes power to the front wheels. 

Offers three trim levels; LT, Premium Launch edition, in ascending order.

The interior is well pampered to include a contracted push-button gear lever, chic geometrical patterns, and styled upholstery.

Semi-autonomous highway driving powered by supercruise.
So, Is One Better Than The Other?
Both cars are great for smooth drives, speed, comfort, and cost-effectiveness. However, on an individual level, the Bolt EV has better mileage at the expense of smaller interior space. 
The 2022 Chevrolet Bolt EUV, on the other hand, has ample interior space, cool geometrical lines, and driver assistance features. Unfortunately, its range is 12-mile shorter than EV's. 
If I were to choose one of the two cars, I would go with the EV. It is small, compact, and has better mileage. The interior is well-fitted in classic 21st-century style with unique upholstery and better driver assistance features. 
Visit Valley Chevy Dealers to Test Drive a New 2022 Chevy Bolt Today!
Finding the best car is not all about reading hundreds of reviews. Sometimes experts have reliable first-hand experience in them. At your Valley Chevy Dealers, we have seen a lot of interest in the 2022 Chevy Bolt EVs and EUVs from our various customers in Arizona. 
Our cars are armed with the latest features, and you don't need to worry about safety and speed. Just visit one of our 14 dealership locations in Arizona, and we will sort you out.