Korea's biggest car brand continues to impress with every new model, and this is the best Hyundai i20 yet. While the standout styling might not be to all tastes and the cabin is let down by mixed materials and a lack of colour, the i20 hits the mark in almost all other respects, from its entertaining chassis and sweet-spinning three-cylinder engine to practicality, equipment and running costs thanks to Hyundai's strong warranty and finance rates helped by a low deposit. It still isn't quite the all-rounder that are our favourite superminis the Renault Clio and Ford Fiesta, but it gets closer than ever.
About the Hyundai i20
The steady march of progress continues at Hyundai, and the latest i20 is one of the best demonstrations so far of this gradual improvement – it's the most complete i20 yet, and the closest Hyundai has got to building a supermini capable of taking on the class-leading Renault Clio, Ford Fiesta and Volkswagen Polo.
While based on the same platform as its predecessor, Hyundai has developed the car in every area. You won't fail to notice the sharper new styling, with a wide grille and aggressive headlights that match those of other models in the range, the SEAT-style slash-cut flanks, and the distinctive tail end with its claw-like lights, a light panel that joins the rear clusters, and contrasting black element that seems to visually increase the size of the rear window.
There have been similar advancements inside, with a more modern design and the notable application of a dual-screen set-up not dissimilar to that used by Mercedes in its A-Class. Offering a fully digital instrument cluster is impressive in this class, while two different infotainment screen options mean there's plenty of showroom appeal too. That doesn't quite stretch to the interior materials unfortunately, which lag behind those of some rivals, and there's not much excitement.
More reviews
Car group tests
Road tests
Used car tests
Trim levels start with SE Connect, Premium, sporty N Line and top-of-the-range Ultimate, while the Element launch edition is no longer available on the price list. Keen drivers will be drawn towards the standalone 201bhp i20 N model, which offers extra sporty styling to go along with its punchy performance.
Under the bonnet, there's only a single 1.0-litre, three-cylinder petrol unit assisted by mild-hybrid technology, delivering either 99bhp or 118bhp. This lack of choice may deter some, but it's an impressive power unit all the same, offering economy in the mid-50s, smooth and punchy power delivery and slick gearboxes. It's also refined and rides well (at least on the smaller wheel options), while for the first time we'd call the i20 a genuine Fiesta rival in terms of driver appeal – as big an indication of how far the i20 has come as anything else.
With plenty of interior space, one of the larger boots in the class yet manageable exterior dimensions, it also retains the practicality of its predecessors. With some good finance offers also available, the i20 should be on your shortlist if you're looking for a new supermini.
Used and nearly new
The Hyundai i20 dates back to 2009, when the first-gen version arrived to replace the Getz supermini. As it's evolved, the i20 has moved further away from the bargain-oriented roots of the original, though all of the car's generations provide good value and offer decent equipment levels and practicality given their respective ages. Reliability is a plus point across all Hyundai i20 generations, too, and owners of younger examples also have Hyundai's five-year manufacturer warranty to fall back should something fail on their car.
Hyundai i20 history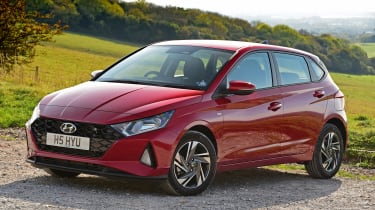 Hyundai i20 Mk3: 2020-present
The Mk3 Hyundai i20 arrived in 2020, and marked a big shift in the character of the car – no longer was it a dirt-cheap bargain, because prices were now on par with many of its main rivals. There were plenty more changes, too: the Mk3 was much more fun to drive and striking to look at than previous versions. Not every trait of the older i20 generations was thrown out on the third-gen car, though – equipment levels and practicality across the board were good, and the car came with a selection of peppy petrol engines.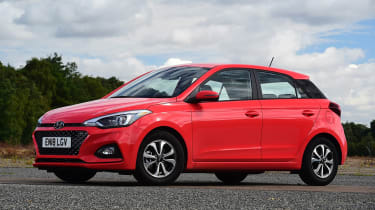 Hyundai i20 Mk2: 2015-2020
While not as big a leap forward as its predecessor was, the Hyundai i20 Mk2 was nevertheless handily better in a number of areas than the Mk1 model. Practicality was improved a bit, and the car was much more stylish to look at – especially if you decided to shirk the five-door set-up in favour of the sportier three-door bodystyle on the i20 Coupe. Like the old car, the i20 Mk2 was also well equipped and represented good value in comparison with some of its rivals. Read our full Mk2 Hyundai i20 buyer's guide here…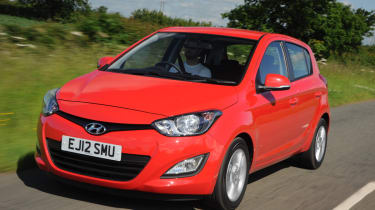 Hyundai i20 Mk1: 2008-2014
The Mk1 Hyundai i20 arrived in 2008, and was a big improvement over the Hyundai Getz supermini that preceded it. It was quite practical for such a small car, and the combination of competitive pricing and impressive equipment levels made the i20 Mk1 a tempting value-oriented alternative to other superminis like the Vauxhall Corsa, Toyota Yaris and Ford Fiesta. A choice of petrol and diesel engines were available, and the Hyundai i20 Mk1 only came in a five-door hatchback bodystyle.