Jeep has taken its first steps towards an all-electric future by revealing the design of its first fully-electric Jeep model, which will be launched in Europe in the first half of 2023.
"Electrification will amplify Jeep's core attributes", claimed Stellantis boss Carlos Tavares during the brand's 2021 earnings presentation. Tavares used the earnings call to set out the group's long-term strategy, which will include 100 per cent of Stellantis sales being fully-electric in Europe by 2026.
The new, as yet unnamed Jeep is a significant marker of this intent, as it showcases how Stellantis brands without any fully-electric models will transform rapidly into having a full EV range.
"This new model will launch during the first half of next year and is the first of a comprehensive fully-electric Jeep line-up that will cover every SUV segment by 2025", he added.
The new model is expected to sit below the Renegade in terms of size. It evolves Jeep's chunky contemporary design language into something more typical of a fully-electric model, with a shallower, more aerodynamic windscreen, and a closed-off interpretation of the brand's traditional grille.
As part of Jeep's celebrations for its 80th anniversary last year, brand boss Christian Meunier announced that there would be a "fully emissions-free Jeep in every segment by 2025". However, Jeep's head of exterior design, Mark Allen, hinted to Auto Express of a possible range expansion to tie in with the electrification: "We're looking at every segment possible", he said.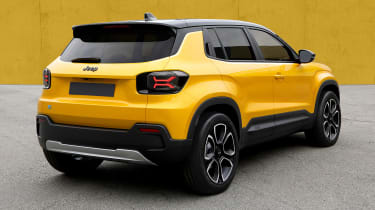 When asked if Jeep's line-up could extend beyond the Wagoneer at the top end and Renegade at the bottom, Allen said, "Absolutely – we're looking beyond those projects.
"Renegade is a B-segment so obviously there's room below that and that's something we're looking at. But we're probably not looking at something larger than Wagoneer – it's a beast!"
Allen also hinted that other new Jeep models are being considered in addition to the smaller model. "There are a couple of other forks in the road that we're looking to cover", he said. "But I've got to point out that just a few years ago we had three vehicles and we're up to this line-up that we have now – we've been extremely busy, and it's really been pushed by market demand and worldwide coverage.
"There's been tremendous growth to the brand in a short amount of time."
The baby electric Jeep could be using the Stellantis e-CMP platform – as used in similarly sized cars like the Peugeot 208/e-208 and 2008/e-2008, and Vauxhall's Corsa and Corsa e models. But it's unlikely that this platform would be able to accommodate four-wheel drive. That's a prerequisite for any Jeep, but perhaps electriciation may change the brand's own rules. As a multi-power platform, using e-CMP for the new model would imply that petrol versions could be produced too – but it is not yet known if this is planned.
With a launch next year it's too early to suggest that the new model will make use of Stellantis's new electric technology, announced at the company's EV day in 2021. The all-electric STLA Small platform isn't due until 2026 but could well accommodate four-wheel drive with electric motors on both axles. With batteries ranging from 37kWh, Stellantis is also targeting a range of up to 300 miles from its new models – around 100 miles more than is available from cars on the existing e-CMP platform.
Although Jeep is committed to electrification, Meunier did admit that Jeep was looking at hydrogen power, too. "It's very exciting," he said. "We have some ideas of what we can do with it."