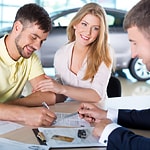 Here are some of the most used auto finance terminologies our team at Stillman Volvo Cars in West Chester, PA thinks you should know:
Delinquency – this is when a borrower fails to make a single loan payment as per the schedule agreed by the due date.
Direct Lending – The method through which a client obtains a loan from a lender directly without the aid of a middleman or a dealership for auto financing. This can be a bank branch or a lender's official website. Direct lending is becoming popular today in auto financing.
Discount Rate – This is the interest rate that depository financial institutions pay for loans received from the United States Federal Reserve.
E-contracting – This is the digital processing of a loan contract meant to speed up the process. Digitally generated auto loan contracts speed up the financing procedures.
Equal Credit Opportunity Act – often abbreviated as ECOA, this is a law designed to ensure that everyone has equitable access to loans from a financial organization.