Verdict
While it doesn't excel in a huge array of areas, the Hyundai i20 Mk2 performs well in enough to be a strong contender if you're shopping around for a used supermini. It's especially worth considering if you're after something as spacious as possible, because the i20 Mk2 has a roomy cabin and a big boot. Further adding to the car's appeal are the competitive running costs, decent fuel economy and good equipment levels. However, while the turbo-petrol cars are peppy, performance is left to be desired on less potent models, and the driving experience isn't that engaging, either.
Which one should I buy?
Best Hyundai i20 Mk2 for families SE 1.0 T-GDi 99bhp automatic
Best Hyundai i20 Mk2 for low costs S 1.2 MPi 74bhp manual
Best Hyundai i20 Mk2 for fuel economy SE 1.1 CRDi 74bhp manual
The Hyundai i20 Mk2 went on sale in the UK in January 2015, and was initially available in a decent selection of trim levels and engine configurations. Four specifications were offered from launch – an entry-level S grade, a better-equipped SE trim level, a plusher Premium specification and a range-topping Premium SE trim. The initial engine line-up was fairly varied by supermini standards, too, consisting of four petrols that were split evenly between 1.2-litre and 1.4-litre options, as well as a 1.1-litre and 1.4-litre diesel line-up.
More reviews
Car group tests
In-depth reviews
Road tests
By and large, this would remain the case for much of the Hyundai i20 Mk2's production run, though there were a few notable changes and additions over the years. A three-door model called the i20 Coupe was introduced in March 2015, and a mildly more rugged i20 Active variant joined the range in March 2016. A few months later in August 2016, a 1.0-litre turbocharged petrol engine was introduced, which would end up replacing the 1.4-litre non-turbo petrol option.
The biggest change made to the Hyundai i20 Mk2 came about in June 2018, when the car was given a mid-life refresh. Cosmetic changes inside and out were admittedly kept to a minimum, but the spec levels were improved thanks to new features such as an updated infotainment system and a smattering of extra safety features. In this guise, the Hyundai i20 Mk2 would carry on until it was replaced by the third-generation model in October 2020.
If it's within your budget, we'd suggest looking at a Hyundai i20 Mk2 that was built after the 2018 facelift, because it will come with desirable features including a digital radio, smartphone connectivity and air-conditioning as standard across the range, plus safety kit including an autonomous emergency braking assist on all but the entry-level cars.
When it comes to engines, the 1.0-litre turbo petrol is our preferred pick, because it blends a decent blend of performance and fuel economy. The less potent 1.2-litre and 1.4-litre options don't have an impressive turn of speed, but what they can manage is decent enough if you'll be predominantly spending your behind-the-wheel time in towns and cities. If longer drives are on your to-do list, you'll be better suited by the diesel options that were available on the i20 Mk2.
Equipment levels were generally good on the Hyundai i20 Mk2, so there isn't a bad version to go for. That said, we would suggest skipping the entry-level S trim level if you aren't on a tight budget, because the higher grades come with more features – especially the ones after the 2018 facelift. Do also bear in mind that, prior to the facelift, air-conditioning also wasn't available on the entry-level S trim.
What are the alternatives?
The Hyundai i20 Mk2 was but one of many superminis available when the car was new, which means there are plenty of alternatives out there if you're shopped around for a used small hatchback. Some of its chief rivals include the Ford Fiesta, Vauxhall Corsa and Volkswagen Polo, which in addition to being very well-rounded cars were also strong sellers, so there are plenty of examples to pick from on the used market.
Other worthy alternatives to the Hyundai i20 Mk2 include capable cars such as the Citroen C3, Kia Rio, Mazda 2, Nissan Micra, Peugeot 208 and Skoda Fabia. If your budget can expand to include options from more upmarket car brands, models such as the Audi A1 and DS3 are also worth having on your radar.
Should your remit for a used small car include compact crossover models, then the selection of models at your disposal balloons to a colossal number. Hyundai has its own alternative in the form of the Kona, and you also have examples such as the Citroen C3 Aircross, Nissan Juke, Renault Captur and VolkswagenT-Cross.
If you like what the Hyundai i20 Mk2 has to offer, but would prefer it in a different style of car, then Hyundai has a pair of alternative options. Firstly, there's the three-door i20 Coupe, which sacrifices some of the practicality and versatility of the five-door Hyundai i20 for a slightly sportier look. There was also an i20 Active model based on the regular i20 Mk2, and came with off-roader-inspired changes like a raised ride height and black bodywork cladding around the bumpers and wheel arches – though the car is barely any better off paved surfaces than the standard Hyundai i20.
Hyundai i20 vs Citroen C3 vs Nissan Micra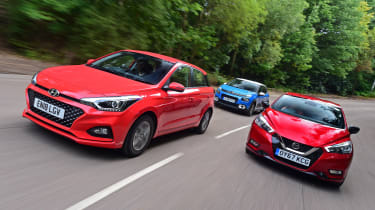 Fresh from its mid-life facelift, the updated Hyundai i20 Mk2 went up against the Citroen C3 and Nissan Micra in our supermini group test from September 2018. We thought the i20 Mk2 was a capable all-rounder that had benefited from its revisions, and deemed it overall a slightly better car than the Nissan Micra. However, it couldn't trouble the Citroen C3 for the top spot ranking in this group test. Read the full test here…
Hyundai i20 vs Peugeot 208 vs Mazda 2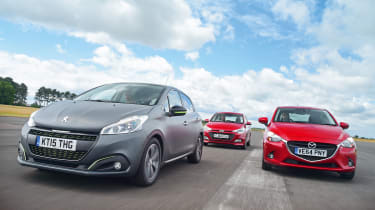 The Hyundai i20 Mk2 was pitted against the Mazda 2 and the then-recently updated Peugeot 208 in our supermini comparison test from July 2015. While the Hyundai wasn't the winner here (that honour went to the Mazda 2), we were nevertheless impressed with the i20 Mk2's practicality and grown-up driving dynamics, and reckoned it was better overall than the Peugeot. Read the full test here…
Hyundai i20 vs Volkswagen Polo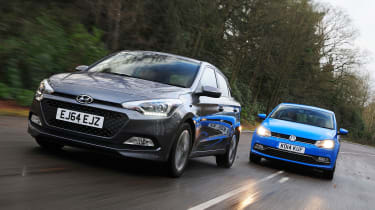 The supermini sector is filled with lots of talented cars, and the Hyundai i20 faced stern competition in the form of the VW Polo in our diesel supermini twin test from January 2015. Impressively, the Hyundai ended up winning this head-to-head, as we reckoned the car was more practical and had a better diesel engine than the VW. However, we did acknowledge the results would be reversed if the two cars were petrol-powered.